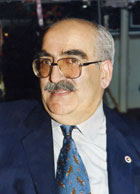 Mehmet Yaşar Evrenkaya was born in Afyonkarahisar in 1937. He completed his primary education in Kadınana Primary School and Secondary School in Afyon High School. Mehmet Yaşar Evrenkaya, who started his professional career after his military service, took his place in the history of provincial economy as the first limited company of Afyonkarahisar while establishing the first bread factories of Afyonkarahisar.
The pioneering investments in the development of regional stockbreeding made investments.
Providing important contributions to the socio-economic development of Afyonkarahisar M.Yaşar Evrenkaya, has been one of the active and sought-after names of the provincial political life in various periods. has increased its production capacity with each passing year and brought one of the leading egg production facilities of the country to the Turkish economy.
M.Yaşar Evrenkaya, who is one of the leading names in Afyonkarahisar in the Turkish poultry sector, continues his professional business life as Honorary Chairman of the companies he founded today.
---
Contact Us
Contact Us
Contact us now for your questions!
Adres
Beyazıt Mh. Eski Sülümenli Yolu Küme Evleri No:33 Merkez

Afyonkarahisar

Contact Us
Tel: +90 543 727 03 03
Fax: +90 272 213 62 68
Tel: +90 506 507 61 27
09:00-18:00

---